About me
Meet your candidate
I am an Edison parent living in the Pico neighborhood of Santa Monica, with my husband, Jim, and our son, Jimmie. My husband and I chose Santa Monica as our home so that our son would be able to attend the excellent SMMUSD schools with its many enrichment opportunities.
Since moving to Santa Monica, I have been very involved at my son's school and have spent numerous hours volunteering at both the school and district levels.
I was elected to DELAC (District English Learners Advisory Committee), ELAC (English Learner Advisory Committee), Edison PTA, and PTA Council, and appointed to LCAP PAC.
Many people will probably recognize me from speaking at school board meetings, my leadership roles in PTA, participating in volunteer opportunities, or from seeing me with my son at the playgrounds at Virginia Avenue and Clover parks.
We love Santa Monica!
My Management Experience

Something you may not know about me is that I'm also a small business owner-operator.
For an assignment during my senior year in high school, I put together a business outline for selling traditional Mexican licuados. From that idea, my parents, my younger brother, and I started a food truck in Portland, Oregon.
It became successful, and, over the past 16 years, we've grown from that first humble food truck into one of Portland's most popular Mexican restaurant chains. I am still involved with aspects of my family's business operations.
My experience managing the now five brick-and-mortar locations has included contract negotiations, handling payroll, overseeing dozens of vendors, and resolving conflicts among employees, customers, and, yes, even my own family.
I care about SMMUSD students
I am passionate about public education. I believe that all students should have an excellent public education. I was a student learning English while attending public schools in South Central Los Angeles, before moving to Portland.
I believe that I can offer a different perspective on how to address the achievement gap, and how to promote diversity, equity, and inclusion in our schools. I also have a proven track record of commitment to our schools and the ability to work collaboratively to get things done.
I would be honored to serve as one of your SMMUSD School Board Members!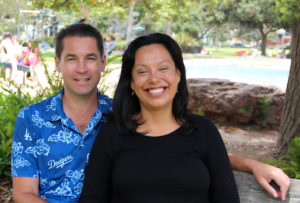 My SMMUSD Experience
SMMUSD
District English Learners Advisory Committee (DELAC) Secretary (2020 – Current)
LCAP Parent Advisory Committee Member (2020 – Current)

SMMPTA COUNCIL OF PTA
VP of Health and Safety (Current)
Diversity, Equity & Inclusion Committee Member (2021-Current)
Historian (2021-2022)
EDISON LANGUAGE ACADEMY
PTA Executive Board Member (Current)

PTA Room Representative Coordinator (Current)

ELAC/DELAC Representative

Garden Volunteer